Grassroots Cricket Awards return for 2023!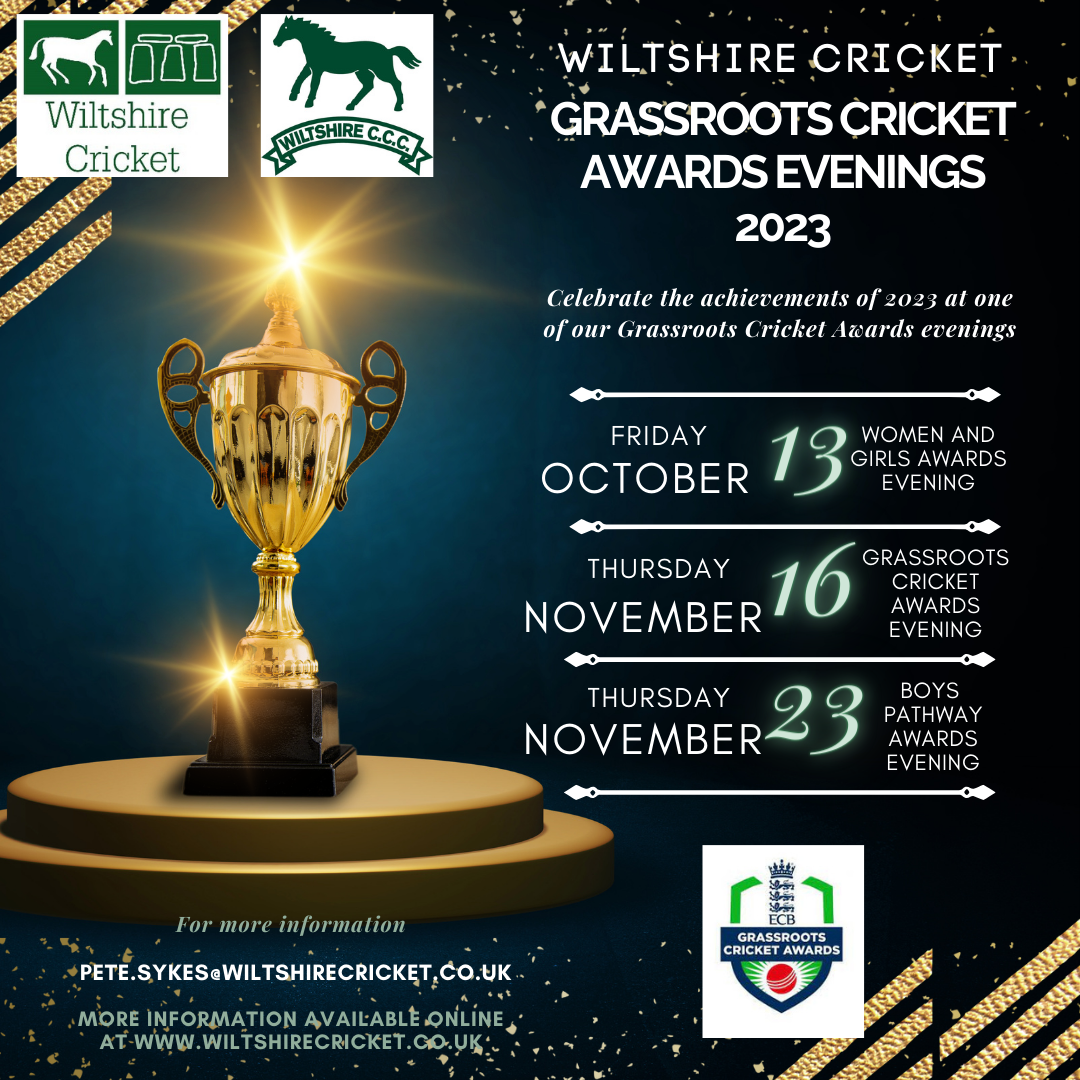 In 2021, the ECB launched the new GRASSOOTS CRICKET AWARDS, replacing the previous OSCAs as the game's Reward and Recognition scheme for our outstanding network of volunteers.
Over the past two years we have run a series of thank you events for our different volunteer groups and during the course of these events we have also also announced the winners of our local Grassroots Cricket Awards. For 2023, we are delighted that the Grassroots Cricket Awards will be returning with the following three events taking place this Autumn:
Women and Girls Awards Evening
Friday 13th October
Avebury CC
At the Women and Girls Awards evening, we'll celebrate the successes, achievements and highlights from the Women's & Girls game, from across Wiltshire. This will include awards for both club performances and also recognising performances from within Women's and Girls pathway Cricket.

Read about our 2022 event to get a flavour of what to expect at the Awards evening
Grassroots Cricket Awards Evening
Thursday 16th November
7pm - 9pm
Assembly Room, Devizes Town Hall
During our Grassroots Cricket Awards evening we will announce the winners of a large number of our Grassroots Cricket Awards, for which we have been collecting nominations in recent weeks. We will also pay thanks to the administrators outside of our clubs, for example those in leagues and associations, who also give an incredible amount of time to ensure that the recreational game is provided with so many fantastic playing opportunities. Within a modern cricket club, the responsibilities have never been bigger for those responsible for leading their club. Equally, there are many more programmes to deliver, competitions to enter, and opportunities for clubs to access. Whilst this is all brilliant for the growth of our game, we are very aware of the demands it places on volunteer time. Therefore, this will be an important opportunity for us to say thank you
Read about our 2022 Grassroots Cricket Awards evening to get a flavour of what will be covered on this evening
*Please note that the shortlist for our different awards will soon be announced. Once announced, invites for this event will be sent directly to invited guests
Boys Talent Pathway Awards Evening
Thursday 23rd November
7pm - 9pm
Assembly Room, Devizes Town Hall
2023 saw some fantastic individual and team performances across the Wiltshire Cricket Boys Talent Pathway as well as some fantastic developments off the field. With this in mind, we are delighted to announce that we will be holding a Talent Pathway awards evening to recognise the achievements of our young cricketers this season. On Thursday 23rd November, we will be holding our Boys Talent Pathway Awards evening during which we will recognise individual performance awards as well as players of the year for our county and development teams. The evening will also provide a welcome opportunity for our amazing coaches and managers to be thanked for the crucial role they play in our young cricketer's pathway experience. Without the hours of coaching and administration that they give we would not be able to offer the opportunities that are currently available to the girls and boys fortunate enough to be selected on to pathway programmes.
Read about our 2022 Boys Talent Pathway Awards evening so that you can get a flavour of what to expect!
*Please note that invites for this event will be emailed to players who represented Wiltshire Cricket in 2023 by your Talent Pathway Coach / Manager from the 2023 season.
Wiltshire Cricket Grassroots Cricket Awards - 2023 Shortlist