Women and Girl's Cricket - Thriving despite Pandemic Problems
The COVID-19 pandemic delayed the 2020 cricket season and created additional challenges for cricket clubs across Wiltshire and the rest of the country. One cause for concern for many clubs was how this may affect participation numbers for members. This was perhaps a greater concern for the newer Women's and Girls' Cricket sections, which are still in their relative infancy compared to their male counterparts.

However, according to a recent club survey conducted by Wiltshire Cricket's Women and Girls Development Officer, Sam Dent, W&Gs sections have continued to grow despite the additional challenges. A staggering 62% of surveyed clubs have increased their membership, whilst the remaining 38% of surveyed clubs have maintained their playing numbers (31%) or decreased slightly (7%) due to external factors. (Figures accurate on 23/10/2020). The particularly pleasing result however is that all W&Gs clubs will continue to offer cricket activity in 2021, and will be joined by numerous new W&Gs clubs. Additional support will also be offered to clubs who would like to grow their W&Gs sections further.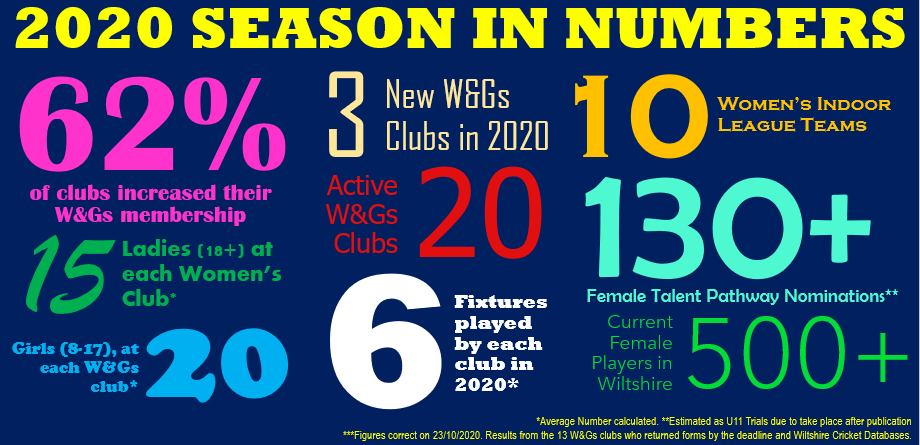 Further results from the survey also highlight the growing number of girls at each club. This trend is set to continue as numerous clubs are working towards establishing new girls sections in 2021, including some 'Girls-only' Dynamos Cricket intiatives - the follow-on to All Stars Cricket.

The 2021 season seems like a long way away at present, but for many clubs, this presents a brilliant opportunity to establish a new W&Gs section or develop an existing section. For new clubs, this is the perfect time to contact Wiltshire Cricket's W&Gs development officer, Sam Dent (contact details below) to discuss establishing a Women's or Girl's team for 2021. For existing clubs, support is available too but it is also the time to express an interest in the competitions, leagues and opportunities for the 2021 season. For more information, please contact Sam Dent.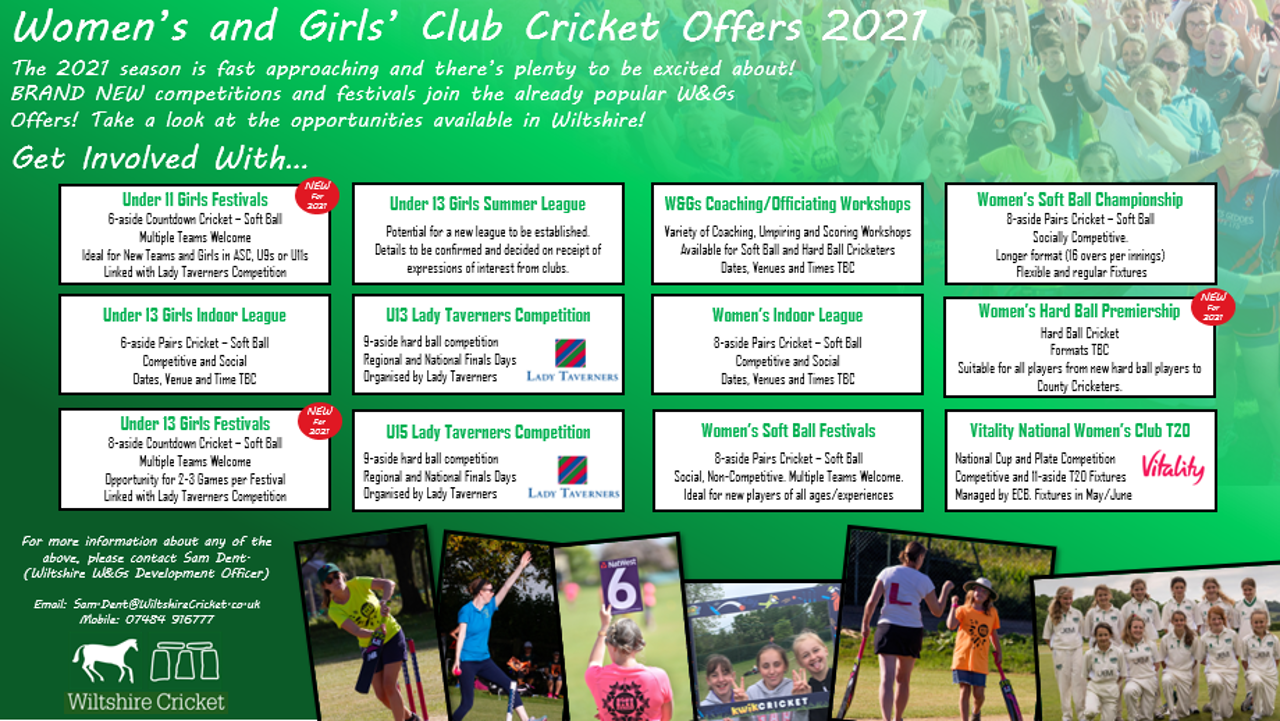 There is no doubt that the 2020 season has been challenging for the cricket world. However, for W&Gs clubs in Wiltshire, it's exciting to see growth and sustainability despite the challenges. The upcoming winter and 2021 season will be an exciting time for the female game!


Interested in starting a Girls Section?
Interested in starting a Women's Section?
Need further support with existing W&Gs sections?

Please contact Wiltshire Cricket's W&Gs Development Officer, Sam Dent for more information.
Email: Sam.Dent@Wiltshirecricket.co.uk