Driving Cricket's Future - Introducing Wiltshire Cricket's Strategy 2020-2024
Wiltshire Cricket is delighted to attach its new strategy for 2020-2024:

Driving Cricket's Future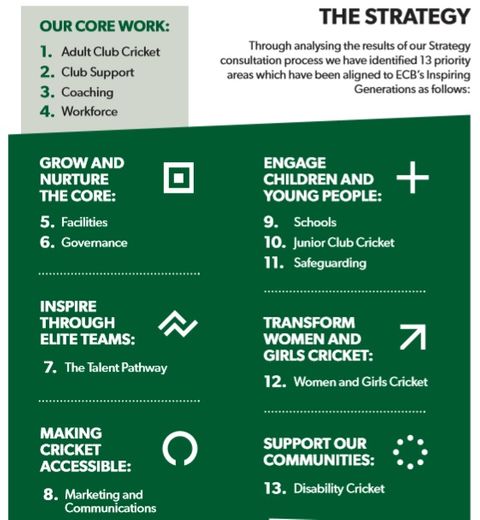 Over the past twelve months we have undergone a comprehensive and robust process to get to our final strategy document and Wiltshire Cricket would like to thank all stakeholders, clubs, partners and individuals who have contributed to this process.
Following the launch of Inspiring Generations (ECB's strategy for 2020-2024), the ECB challenged all counties to produce their own plans for the same strategic period. Within these plans there was an expectation to see ambition, collaboration and a clear link to ECB's aims. Over the past twelve months we have taken on board these guiding principles but at the same time have been very keen to produce a strategy that is both personal to, and representative of, the uniqueness of Wiltshire as a county. In 'Driving Cricket's Future' we believe we have done this.
As we present this strategy to the cricket community in Wiltshire we are also delighted to be doing so with a new structure and workforce in place to deliver it. Following the release of ECB's Inspiring Generations and its strong emphasis on all organisations working more collaboratively we have embraced this new era for the game to shape what we think the future structure of Wiltshire Cricket should look like. Historically, Wiltshire Cricket Limited (the Cricket Board) and Wiltshire County Cricket Club (Wiltshire CCC) have worked closely together but have always been independent organisations. However, as we launch this new strategy for the county we are delighted to be doing so as one entity. From 2020 onwards, Wiltshire Cricket Limited will comprise two branches;
Cricket in the Community
Wiltshire CCC Talent Pathway Department
More information on this structure can be read about within Driving Cricket's Future. The strategy also outlines clearly the workforce structure that will deliver the plan.
Within our strategy we have separated all of our activities in to 13 work areas as detailed in the graphic in this message. These 13 priority work areas have been aligned to ECB's six Inspiring Generations pillars as well as to a seventh pillar entitled 'Our core work'. This is recognition of the fact that as well as driving growth in strategic areas of the game, we must also continue to focus on delivering the core activities that underpin our game.
---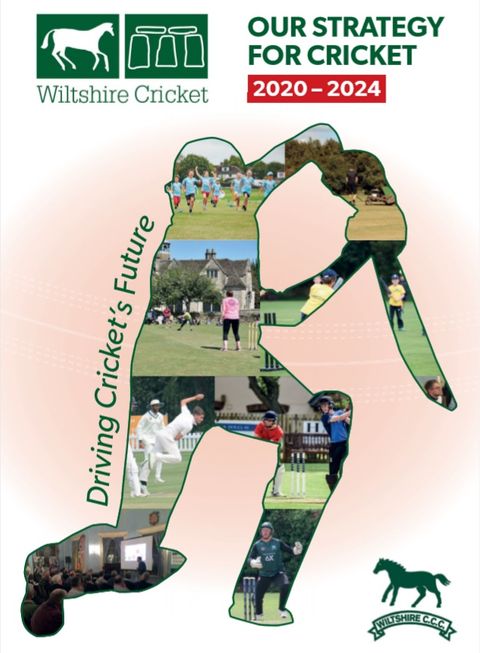 Launching the Strategy – Invitation to 'Driving Cricket's Future' Launch – Tuesday 5th May 2020:
To present more information about Driving Cricket's Future, the activities within it, and the workforce that will be delivering it we are delighted to be holding a launch event as follows:
Tuesday 5th May 2020
7pm – 9pm (arrival from 6.45pm)
Assembly Room, Devizes Town Hall, Devizes, SN10 1BN
At this event we will introduce:
Strategy process
Driving Cricket's Future and its contents, including support available to clubs
Our new structure
New members of Wiltshire Cricket development team
Information related to new ECB Programmes and initiatives, including but not limited to:

ECB County Grant Fund
ECB Coach Development Pathway
Dynamos Cricket
+ much more
We'd be delighted for you to join us at this launch event. To book a place, please contact Pete Sykes at pete.sykes@wiltshirecricket.co.uk
---
Wiltshire Cricket's website undergoes a re-brand:
At the same time as launching our new strategy, we are delighted to present the new www.wiltshirecricket.co.uk. Our website has undergone a re-brand to reflect the new structure of Wiltshire Cricket and to ensure that it is reflective of the work that we now deliver. We also hope that the website's appearance and usability will be received well as we strive to make wiltshirecricket.co.uk an enjoyable and informative site to visit, and one that works well with current technology and varieties of devices.