Wiltshire Cricket recognises the invaluable work of our Grounds volunteers
The Council Chamber at Devizes Town Hall played host to the second Grassroots Cricket Awards event on Wednesday 10th November. This event was to thank the grounds volunteers from across cricket clubs in Wiltshire, and to recognise the wonderful and invaluable contribution they make to our game.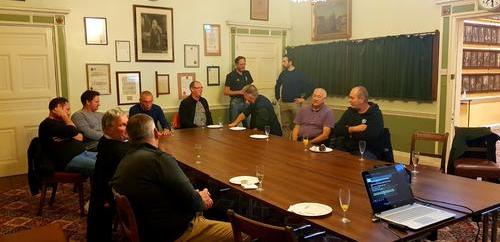 The importance of our grounds volunteers has never been felt more keenly than over the past eighteen months. Back during the darkest days of the first lockdown, grounds volunteers acrsoss cricket clubs continued to work on squares to ensure that when the game returned in July 2020 we were able to mobilise the game quickly and have cricket happening within days of getting the green light from government.
Fast forward to 2021 and groundstaff have never had a busier summer to manage. With Cricket already growing to new audiences, and in turn placing increased pressure on grounds, this summer also saw an increase in demand for pitch space as the game looked to respond to the latest lockdowns by putting on more practice, more matches and more initiatives; a) to replace activity lost in the winter of 2021, and, b) to ensure that the game capitalised on the appetite for society to get out and be active.
Wiltshire Cricket and the Wiltshire Cricket Grounds Association pays thanks to all the many volunteers up and down the country who devote hours of their time to managing grounds and preparing pitches. The game simply couldn'd do without you.