ACE Bristol Programme Trials - Available to Wiltshire Cricketers
We are delighted to inform Wiltshire Cricket affiliated clubs and players that the ACE programme set up in Bristol has reached out to Wiltshire Cricket to offer the opportunities to potential cricketers throughout our county
Please forward to anyone who you think this opportunity could be of interest to ...
What is the ACE Programme?
The ACE Programme was launched by Surrey County Cricket Club in January 2020 in response to the decline of the black British professional players by 75%, and less than 1% of the recreational game. The ACE Programme was designed to engage young people of African and Caribbean Heritage and a talent search was launched.
The vision
The ACE Programme Charity aims to inspire the wider game to support reconnecting with the Black community. The vision is to be a catalyst to accelerate change and has a ambition to become a national charity operating in five key cities with target communities.
One of those cities is Bristol, with one of the opportunities available to cricketers being selection for an ACE scholarship.
Bristol ACE Academy Trials
Taking place on Saturday 22nd January, trials are taking place in Bristol for the ACE programme.
All information can be found in the following poster: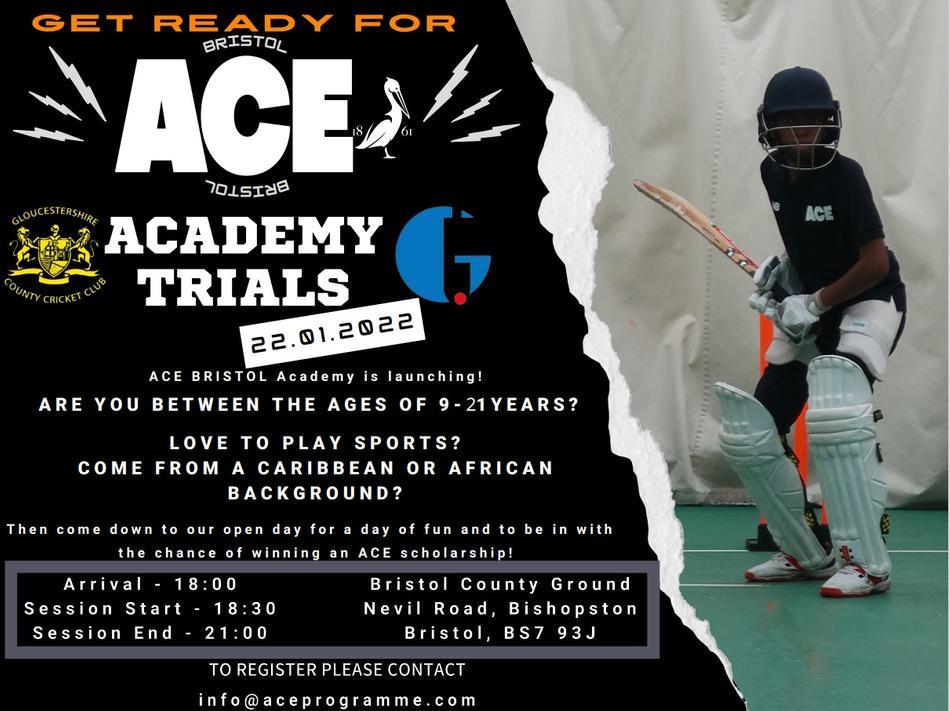 If you would like to register for the trials, please complete the following registration link; https://forms.gle/vBidqQJ8rrZ6aA2j9
If you have any questions about the ACE programme, then please contact Theron Gordon, the Bristol ACE Development Officer, at; theron.gordon@glosccc.co.uk