South Wilts CC win Wiltshire's Vitality Under 15 Club T20
The county final stage of this year's Vitality Under 15 Club T20 competition took place in Salisbury on Wednesday 22nd June and it was South Wilts CC who came out as victors; defeating Winsley by 8 wickets.
The Vitality Under 15 Club T20 is a national competition that begins with knockout matches within counties before proceeding on to county, regional and than national stages.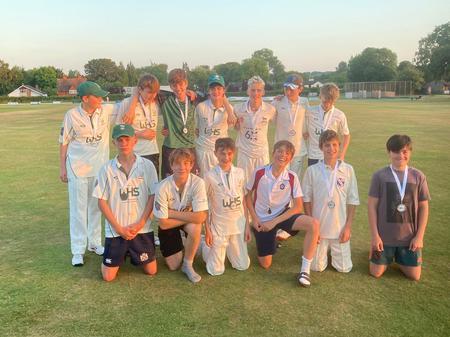 This year's competition in Wiltshire saw South Wilts and Winsley progress through to the final. Hosted at South Wilts, Winsley batted first and posted a total of 117-8 from their 20 overs. For Winsley, there were useful contributions of 28 from Kinna Carr-Hartley and 23 from Hugo Bradbury. For South Wilts with the ball, Thomas Whiting returned figures of 3-25 and Tristan Prinsloo 2-9.
In reply, South Wilts were led by an unbeaten 52 from opener Will Welsh. Welsh was ably supported by George Gairdner (26), Thomas Whiting (21) and 11 not out from Alexander Vincent. In the end, the target was reached for the loss of 2 wickets inside 18 overs.
South Wilts will now go on and represent Wiltshire in the regional stage of the competition. We wish them the very best. We also congratulate Winsley on reaching the final and our thanks go to the coaches, umpires and scorers who all supported finals day.