Support and Advice
Ground, Weather and Light
At the beginning of 2016, the ECB ACO released new Ground, Weather and Light Guidance for recreational umpires. At the time, all ECB ACO umpires will have received a guidance booklet and A6 guidance card.
These can also be downloaded here:

Ground, Weather & Light Guidance Booklet

Ground, Weather & Light Guidance Card
The main things to note from the guidance are as follows:
In order for play to start, continue or resume, both umpires (subject to point 9 on guidance cardbelow) should agree, at all times, that conditions do not present an actual and foreseeable risk of injury to any player or umpire. To help to establish this, the following questions should be considered by both umpires. The state of the game, or the views of either team, should have no bearing on the answers.
There are 9 steps for umpires to follow and consider. These can be seen in the guidance card attached above. However, even once those 9 steps have been followed it is still important to consider and acton the following before play can start, continue or resume:
Consult - Before play commences umpires should, if available, seek the view of people who know the ground and its facilities (covers etc) to agree with their colleague how GWL issues will be handled and ensure that both captains are informed.
Observe the movement and actions of the players prior to commencing and during play to help decide/affirm your answers.
Record at the time of all inspections, conversations, agreed actions, any delays/suspensions of play.
Retain these records and Record them on any official report on the match submit.
Listen to what others are saying, consider it and reach your own independent conclusions.
Ensure - play never starts or resumes without the umpires carrying out an inspection of the whole ground to confirm the answer to the above questions are all Yes.
Delay – do not wait until the end of the over – if an answer is NO suspend play immediately.
Other points to note:
Once play has commenced it is not necessary for it to rain etc again – if any of the answers become a NO, then play should be suspended immediately.
If players wish to continue, in spite of the umpires concluding it is dangerous, umpires should tell them they will not umpire the match under the prevailing conditions.
If players refuse to play, point out the decision is yours, remind them of Law 21.3, give them a chance to change their mind and if not invoke Law 21.3.
Note - To the fullest extent possible in law, neither the ECB or the ECBACO (or indeed any other party involved in its production) accept any responsibility for loss occasioned to any person acting or refraining from acting as a result of material contained in this document.
Player Behaviour
Why is player behaviour so important?
The Laws and the Spirit of Cricket are there to ensure that all 22 players and umpires enjoy a game that, although played competitively, is always played fairly.
Whatever your role in the game, we all have a responsibility to ensure that the Laws are upheld and that we don't tolerate any form of poor player behaviour.
Remember that poor behaviour detracts from the enjoyment of playing the game and causes additional work for volunteers by taking them away from supporting other areas of the game.
The ECB has a new resource dedicated online tool to take you through the introduction of Law 41 Unfair Play and Law 42 Player Conduct.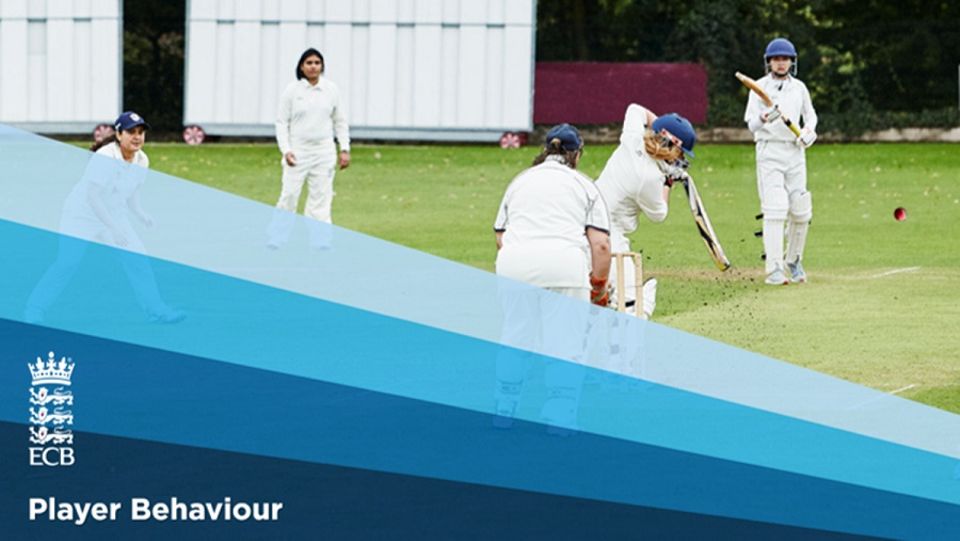 The MCC's new code of Laws has updated Law 41 - Unfair Play, and Law 42 - Player Conduct. It is important that everyone involved in the game from captains to umpires, coaches and administrators understand the changes to these laws and the impact it will have on their role.
ECB has provided recommendations on how these Law changes should be implemented to maximise more play and provide the best possible experience for players and officials. Importantly, this includes the differing responsibilities between non-playing and player umpires.
Finally, players are advised to familiarise themselves with their own individual League and Competitions regulations in advance of the season.