Talent Pathway Activities from home Stage Two
Stage Two - Programme One
Warm Ups
1. Lunges - Forwards and Backwards Lunge
Do a walking lunge backwards and forwards, repeat three times and rest.
Complete 3 sets.
2. Press Up and Catch
Start in the press up/plank position, push up and take a catch.
Throw the ball back and jump back down into the press up/plank position.
Repeat 10 times.
Complete 3 sets of 10.
3. Bowling Stability
Stand on your right leg. Bend down (staying upright) and pick up a book/cone/a sock…
Balance it on your head and stand upright without dropping the book/cone/sock….
Bend back down and put the book(etc) down, stand back up again.
Turn your body 90 degrees and start again.
When you get back to the start, rest, change to your left leg and start again.
Skillsets
1. Catching Grid
For this activity, you will need a ball, pen, paper and a partner. You could also use a bat or a tennis racquet. Using the pen and paper, draw a 5x5 grid with a stickperson in the middle to represent you. From here, the feeder can either hit or throw the ball to you in various positions. Every time you drop the ball, mark the position on the catching grid. This will highlight areas of strength and areas of weakness for you to work on in the coming weeks. You may find that catches high and to your left are most challenging or low and to your right are difficult.

Key Tips:
Be as accurate as you can with the catching grid.
Make the catches for all areas challenging (Think speed of catch and reaction time).
Tennis balls can encourage 'soft hands'.
Think about your catching technique. (Ready Position, Fingers up vs fingers down).
2. Chin Drop Drill
For this activity, you will need a tennis ball, a bat and a target area. Set the target area up for mid-on to mid-off. Using the chin drop feed, strike the ball through the target zone in front of you. Complete this as many times as you can.
You could also keep score for two development areas:
a) Count how many balls go through the target area. (E.g. 2/6, 5/6 etc.)
b) How many balls did you strike in the middle of the bat. Be harsh and only count those that you are certain of. Try to beat your score every time. An extra challenge could be using a stump or a thin bat instead.

Key Tips:
When striking the ball, ensure the full bat face is directed towards the target zone (I.e. it would be facing the bowler)
Try to finish your shot with the bat following through the target zone too. Try to ensure your hands work together and the bat path is straight, rather than dominated by your strong hand.
At the point of ball contact, try to keep you head over the ball and watching it carefully.
3. Bowling Exercises
A) Pace Bowling:
Back leg strength and stability is an important part of the bowling action. Bowlers with more back leg strength and stability are better able to maintain strong bowling positions and prevent injury. You might want to look for some examples of good back leg stability on Youtube for international bowlers.
Use these bowling stability drills below to help build up back leg strength.

Back Leg Hops – Using shoes, cones or boxes, created some hurdles that are approximately 1.5ft apart. Then, standing on your back leg (Right foot for RH bowlers, Left Foot for LH bowlers), hop over each 'hurdle'. You will get more out of this drill if you can hop and hold a strong bowling position.
B) Spin Bowling:
As a spinner, you're job is to 'Spin the ball' as much as you can. Spin creates challenges for the batter and this can be in the form of lateral movement off the surface, drift in the air or bounce. Bowling pace can also cause problems for the batter.
Watch this video from Peter Such (Spin Bowling Coach) to understand the role of a spinner and some useful bowling tips/drills.
If you have space, you may want to try some of the drills in the video. If not, here's an activity you could try at home. You will need a tennis ball, some chalk and an area to land the ball (You could use a dark tea towel perhaps). Using the chalk, draw a seam line around the ball. Then, from one knee, bowl the ball and land it on the tea-towel. You should see a chalk mark in the direction of the seam. Is it pointing the right way, in the direction you are trying to turn it?

4. Wicket Keeping
At this early stage in the season, it is important that wicket keepers start to build up their hand eye coordination and fitness levels. Use the catch grid exercise above from a wicket keeper's stance to identify which catching areas to focus on. You could extend this to diving range if you have a big enough and safe space.

For the fitness activity, you will need 3 balls (or rolled up pairs of socks) and a stopwatch. Place the balls in a line, with approximately 1.5m between each ball. Adopt a Wicket Keeper's stance at the central ball and start the clock. Pick the first ball up with your right hand and side step to the left. Pick the second ball up and swap it with the first. Then side step to the 3rd ball and swap them over. Continue to side step and swap for 30 seconds, then rest and repeat.

Key Tips:
As you feel more fatigued, it is likely that you body position will be taller. Be conscious of this and try to stay as low as possible, in a strong wicket keepers stance. Remember, your back should be straight and you body should be in a Z-position (Feet-shins-thighs-back).
Push yourself for the whole period of time and use the rest period to recover. The harder you work now, the easier fixtures will be in the summer months.
Psychology Activity
Top athletes in all sports have excellent psychological skills that aid their performance. In Cricket, psychology plays a crucial role in everyone's ability to perform. This could be in the form of confidence, coping with pressure, tracking the ball, concentration and many other psychological skills – it is far more important than many players and coaches believe and is often what separates a 'good' player from a 'great' player.
One element of performance that is often forgotten about is a player's ability to put themselves in the optimum psychological state. There are probably lots of examples where you 'weren't in the mood', 'couldn't focus' or even 'felt too much pressure' or 'was anxious'.
The diagram below demonstrates this 'psychological state' in an inverted-U shape, with the x-axis (Horizontal) representing psychological arousal (stress/pressure) and the y-axis (vertical) representing performance.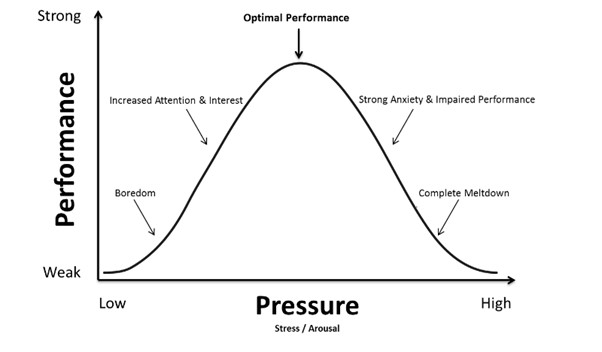 As you will see, there is an optimum point on the x-axis for achieving 'peak' or 'optimal' performance. This peak may occur at slightly different stages of psychological arousal for each individual (e.g. it could be skewed to the left or right).

Activity: Getting in the 'zone':
a) Think about your very best performances (with bat or ball) and identify some key characteristics for that performance. Are they common characteristics with other 'great' performances? If they are common, keep them on the list – perhaps you can try to replicate these each time you perform.
For example, some people describe themselves as 'confident, stubborn, proactive, instinctive, intense/relaxed, no fear of failure, motivated, taking control. You may also have some common 'actions', such as: loud & confident calling, decisive/proactive movements, desire to 'be the hero', watched the ball.
It is important to remember, there isn't necessarily a right or wrong answer here, it is generally what works for you and where you feel your 'optimum performance' occurs. Identifying this can be help to understand how to prepare for matches/training.

b) Think about some of the times when you may have under-performed? Do they have common characteristics too? Would you say that you were 'over-aroused' or 'under-aroused' psychologically?
Similarly to above, some examples might include: too relaxed, lazy, felt over-nervous, afraid to fail, quiet/loud, indecisive, wondering thoughts etc.

c) Using the internet, find some strategies that may help to change your psychological state when performing. Some examples could be:
- Imagery
- Self-Talk
- Re-evaluating challenge vs threat state (more on this next time).

d) If you're interested in more psychological theories and research based on psychological arousal and performance, the following video and article gives a nice summary of the inverted-U theory amongst others.

https://oxfordre.com/psychology/view/10.1093/acrefore/9780190236557.001.0001/acrefore-9780190236557-e-155
Bowling Tactics:

For this activity, you will need some pens and paper.
Think about our bowling (or view this as a captain) and draw a variety of field placement diagrams to discuss with your coaches when we start training. Remember, your field is fluid so you can make changes, but it's always good to have a base plan.
You will need to consider:
a) Stage of Innings (1st Innings? 2nd Innings? Opening? Middle overs? At the death?)
b) Types of batter (Top Order? Right Hand? Left Hand? Tailenders?)
c) Your home ground (Size of boundary? Pitch type? Common wind direction? Slope?)
d) Team-mates? (Which players are fielding where? Strengths/weaknesses? Bowling partnerships?)
e) You bowling plan? (Defend? Attack?)
f) Field Restrictions? (Powerplays? Defending small total?)
g) Type of match? (20 over? 50 overs? 2-day?)
h) Your skill set? (How confident are you with your plan?)